You are hereTorchwood: Miracle Day - Episode 6 "The Middle Men" Reviewed on Hitchhiker's Guide to British Sci-Fi
Torchwood: Miracle Day - Episode 6 "The Middle Men" Reviewed on Hitchhiker's Guide to British Sci-Fi
---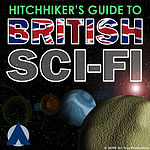 Hitchhiker's Guide to British Sci-Fi - Episode 16
Running Time: 1:36:06
Torchwood: Miracle Day - Episode 6 - "The Middle Men" reviewed live over the net with your live feedback including Abersoch, Mystery Presenter, and Duckworth.
Hosted by Louis Trapani @LouisTrapani and Dave Cooper @daveac and Graeme Sheridan @The2ndDoctor
NOTE: Next episode we will be reviewing two episodes ("Immortal Sins" and "End of the Road") to catch up after Hurricane Irene. Join our live show on Sunday at 7pm EDT.
Get a FREE audiobook download from Audible with a FREE trial and support our show in the process!
Get your Hitchhiker's Guide to British Sci-Fi swag and gear here! Be sure to also to subscribe to Doctor Who: Podshock for further coverage of Doctor Who.
You can support this podcast by making a donation.
Below are the links to the Enhanced Podcast AAC format and MP3 format version of the first episode of the Hitchhiker's Guide to British Sci-Fi podcast.
Subscribe via iTunes: Below are the direct links to iTunes for both versions.
Direct podcast feeds: