Mobli Adds Features and Spirit (and Me... to the Popular Section)
---
First I want to say thanks to Mobli for featuring me among other fantastic people in their popular section both in the app and the website. It was an unexpected surprise.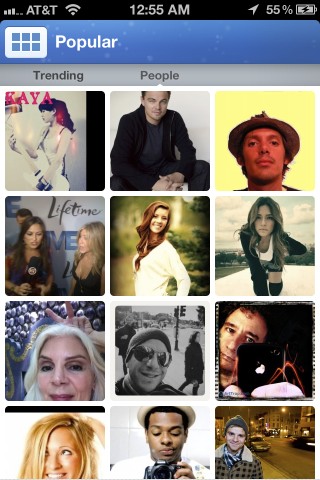 Mobli is your connection to a global community via the internet connected together through mobile devices (iPhone, Android, and Blackberry) as well as an website portal. It allows you share your experiences through photographs and videos and others to share theirs in channels centered on an event, topic, location, or person. See my more depth review here: Mobli Mobilizes Your Life.
What you may not know is that Mobli added some great new features to their mobile app. The latest version for the iPhone (1.05) rolled out around the same time that Apple released iOS 5, so many might have missed learning about the new features Mobli added under fanfare of a new OS for the iPhone being released.
While there are several new and exciting features added, the ones that thrill me the most are the ability to tag people in comments using their username (start typing their username and Mobli will attempt to auto complete it 'magically' for you). You can now repost someone else's photograph or video to your stream (with proper credit given to the original creator). Think of this as a "reblog" on Tumblr or a "retweet" on Twitter. Comments and "loves" of a photo or video are now separated under each. Also the first person to "love" a photo or video will now be highlighted as such in that section. There are plenty more new features this update is packing, see the bottom of this article for a complete listing.
As I mentioned in my initial review, Mobli offers special filters that can be applied to photos that are specific to a location or an event. As I write this, we are approaching Spirit Day (October 20th) and Mobli has boldly joined many other companies in offering a way to show your support for Spirit Day and has added an option to tint photos purple to show your support.
With Mobli, you have your eyes and ears to the world. I was seeing coverage of the 'Occupy Wallstreet' movement first on Mobli and with the ability to share video, I was able to see video that was taken right on the front line of the movement without it be filtered. It is just one example of how effective Mobli is as a platform for "sharing the moment." I did it myself this past weekend at New York Comic Con 2011. I was able to create a channel for the event and post photos to it. Though I had a tough time getting a connection to the net at the center (not the fault of Mobli, but due to the shear numbers there all trying to connect and the 3G coverage at the center in general not being the greatest in my experience), I wasn't able to post too many as it was happening, though one of the great features of Mobli is that it allows you post your media afterwards and will pick up the location data from the photo itself (if it is available - turn on location services on your iPhone camera to geo-tag your photos) so it can still be placed in the location channel of where you took it even after you left the location.
Mobli is free and is available now for the iPhone (models 3G and up with iOS 4.2 or higher) and in beta on the Android and Blackberry (you can request to join the beta program).
Here is what is new in version 1.05 (from Mobli):
Added the ability to repost a photo or video.
Added the ability to switch to grid/list view.
Introduced new presentation for popular and trending feeds.
Added the ability to tag users in text (@username).
Loves and comments are now separated.
Added photos to notifications.
Added thumbnail style presentation to my feed.
Now displaying most popular media when viewing a user's page.
Several performance improvements.
Thanks once again Mobli for my unsolicited inclusion in the popular section. It is cool to be among others in the section (which include some familiar names such as Lukas Haas, Leonardo DiCaprio, and David Arquette).