Free iOS Apps This Weekend: IncrediBooth, The Terminator, and Jaws Revenge
---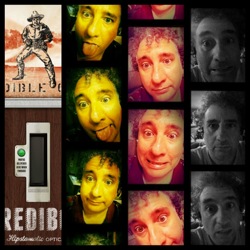 Many iOS app developers are offering free or discounted apps this weekend in celebration of Halloween. One of which is IncrediBooth. As the name implies, it is a photo-booth type of app. It takes a series of photos using the front facing camera of the iPhone 4/4S, iPad 2, or iPod touch 4th generation using different filters.
The app is free this weekend (normally 99¢ USD - App Store link: IncrediBooth - Hipstamatic, LLC) and it includes the "Cowboy Booth" set of filters (4 variations). You can purchase other booths (filters) including a special one just in time for Halloween called Haus O' Haunt Booth (for iOS 5). This filter pack and other ones are available as in-app purchases for 99¢ each. They are completely optional of course.
The app produces a digital strip of photos just like the traditional old time photo-booths which you can then save to your photo library (it does this automatically as well), email, upload to Facebook or send to Twitter for iOS 5 users.
You can only select the filters prior to taking the photos, not afterwards. If it sounds a little like Hipstamatic, it's because it is by the same developer.
It's a fun app, and I would expect especially fun at social gatherings and parties. I noticed some have posted in the user reviews reports of it crashing often. I have used the app several times yesterday and I haven't experienced any crashing.
Another app that may be of interest to you if you are a Terminator fan, is the game app, The Terminator. It too is free this weekend. I haven't tried this game, so I cannot comment on it. You can find it here: The Terminator - Big Head Games Ltd. (No longer available).
Another game app which I have not yet tried but is now available for free this weekend is Jaws Revenge. Based on the Jaws film series, I believe you play the shark in this game. It is available in the app store here: Jaws™ Revenge - Fuse Powered Inc.
(Links to the Apple App Store are affiliate links)