New iPhone Next Month? [VIDEO]
---
Is it the sunset weeks for my iPhone 4 now?
I vividly remember that June day in 2010 waiting on line at Apple for the latest and greatest iPhone, the iPhone 4. It was an usually hot day for June. It was not the first time I found myself on line for the new iPhone. I had done it before just the year before for the iPhone 3GS. Two years before that, it was for the original iPhone in 2007. I had skipped the iPhone 3G to make my first iPhone upgrade to be the 3GS. I didn't think I had a choice because I locked into my 2 year contract with AT&T. Even though I think they allowed me upgrade after 18 months, it would mean getting a new iPhone just six months before a new one was released. I figured I would simply hold out for the new one.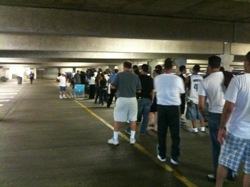 Even though it was only a year, I was delighted that I was eligible to upgrade from the 3GS to the 4 when it first became available in June 2010. I almost felt bad for my 3GS for only using it a year before jumping to the 4 (I have since been using it as demonstration unit in my Photo Focus video series).
It felt like that first two years with the original iPhone was a very long time at the time. It had gotten very slow with the latest iOS software updates as it was trying to do more than what it was originally designed to do with the first iOS. I can safely say it was getting a "little long in the tooth."
Yes, it did feel like a long time with the original iPhone, but in actuality, the time I've been using the iPhone 4 has now surpassed it. It's been over two years since that release date in June 2010. Thankfully, the iPhone 4 isn't feeling as "long in the tooth" as the original iPhone did after two years. Though I do feel that way at times when I have the opportunity to use someone else's iPhone 4S and feel the difference in speed and the quality of the camera.
I was hoping that Apple would return to its June release schedule after last year's change to October. I had speculated that perhaps the reason for the delay last year was due as a result of the tsunami in Japan that occurred in March which could had delayed some of the parts needed for assembly in China. I have no inside information as such, as I said, it was simply speculation on my part.
Rumor now has it that Apple is planning an announcement on September 12th with a rumored release on the 21st. Again, this is just a rumor now. It could happen later in October again… Who knows? It's a sure bet it will be very late summer or autumn at some point.
Yeah, I can really use the new iPhone just about now. For some reason my mic on my headphones is coming through muffled. Which reminds me, the dock connector is rumored to be changing from a 30-pin connection to a 19 one… Which means it will need some sort of adaptor to connect to existing accessories and cables. Not looking forward to that part if it turns out to be the case.